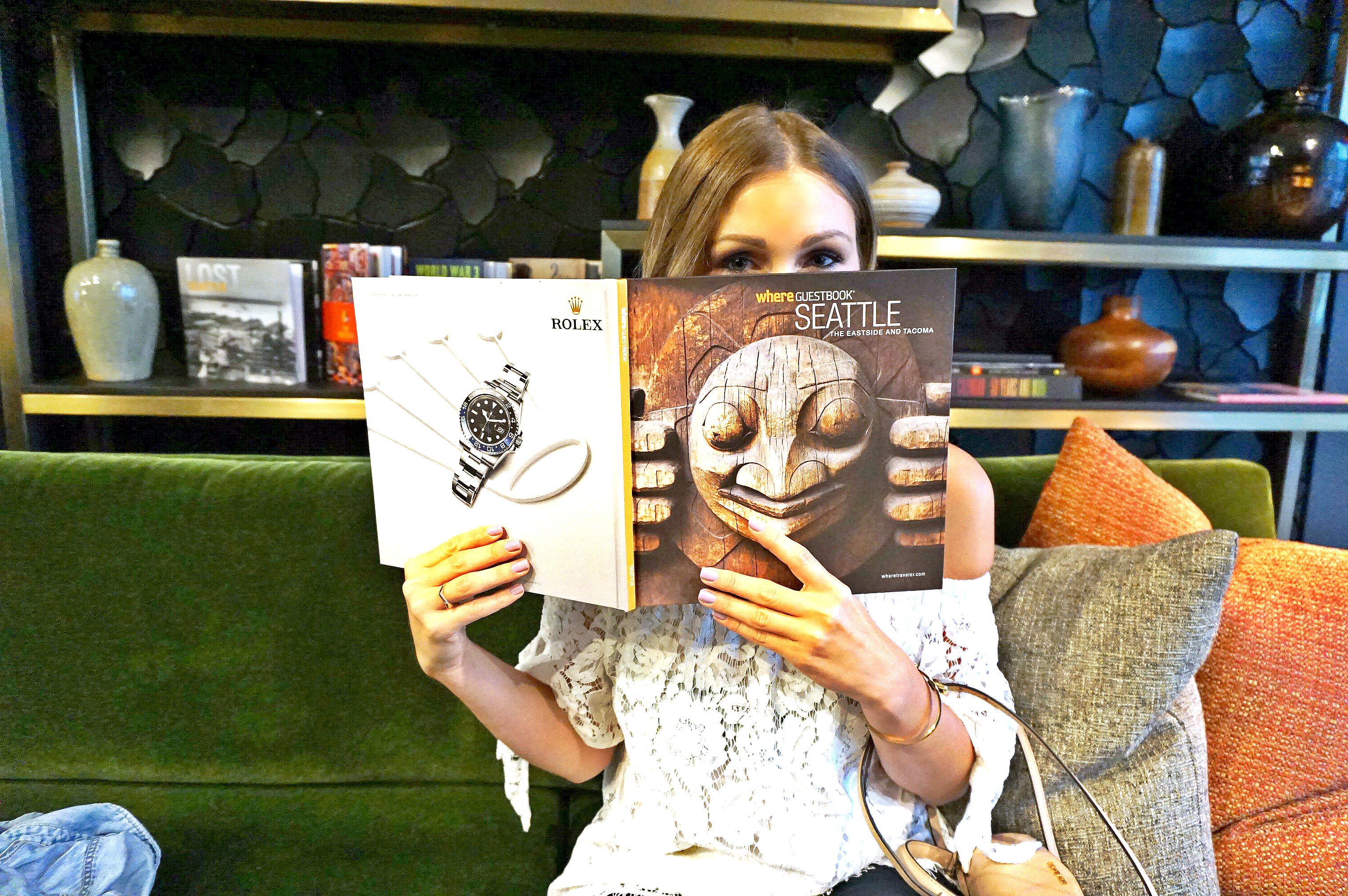 This is exactly what this city needed. The Thompson Seattle.
Seattle does "chill" really well. It could be the jet lag, but this city has never inspired me to get dressed up and grab a fancy fun cocktail. And for good reason… it's a laid-back place with a perfect balance of urban cool and outdoor escapes. Those options aside, I've always felt that there was something missing in this city. Although it's easy to find a local spot with good food in a nice setting, the list of cosmopolitan options is limited in scope and style.
That's why I was thrilled when we were invited to sample cocktails at the city's newest hotel addition, Thompson Seattle.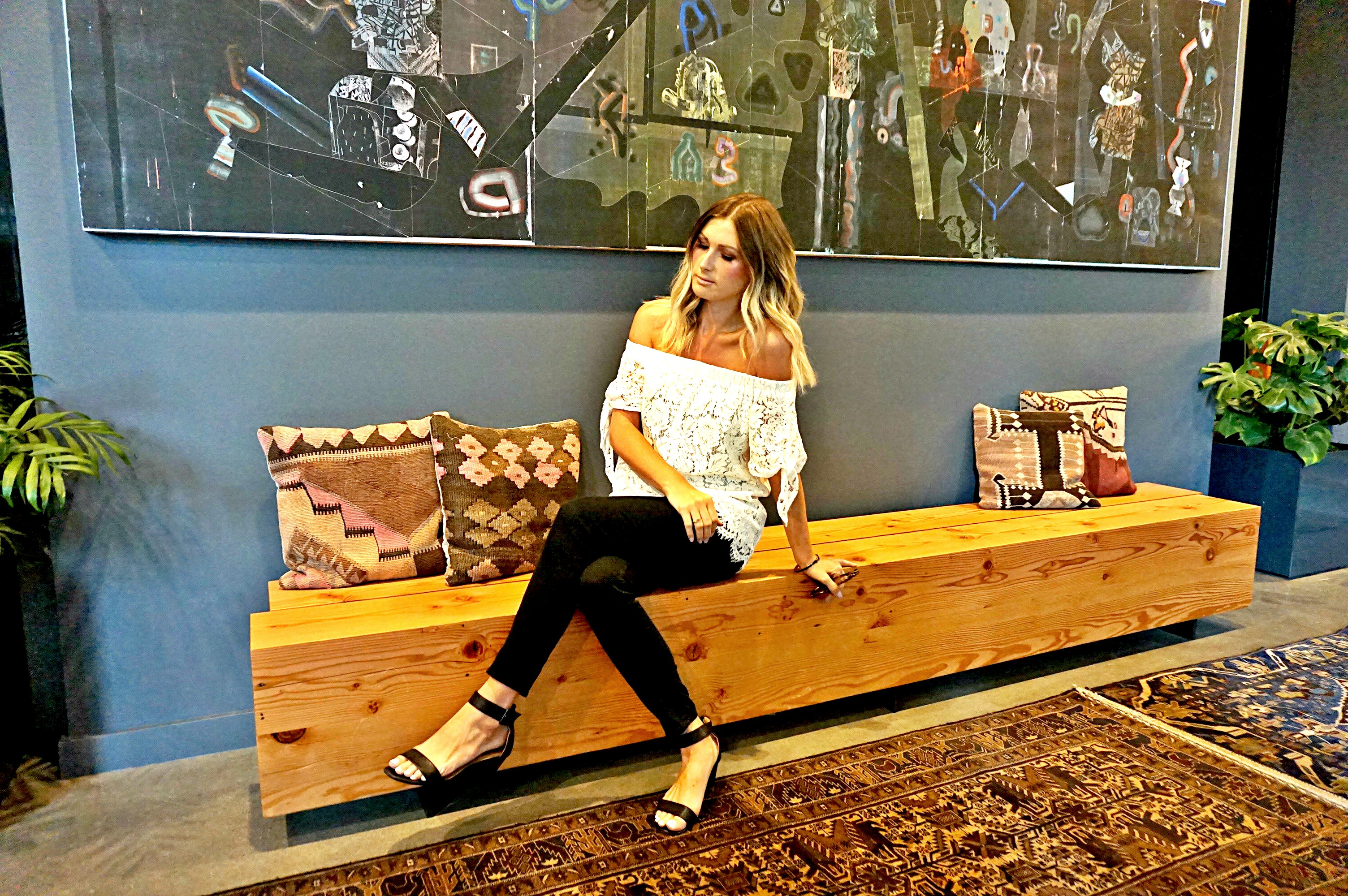 Sipping cocktails with stunning views of the Pacific Northwest takes "grabbing a drink" to a new level. As we walked into Seattle's newest luxury boutique hotel we were met by a soft-spoken concierge who invited us to take a seat as she confirmed our reservation for The Nest rooftop bar. It was the perfect chance to grab a book and chill on the couch while we got acquainted with the space.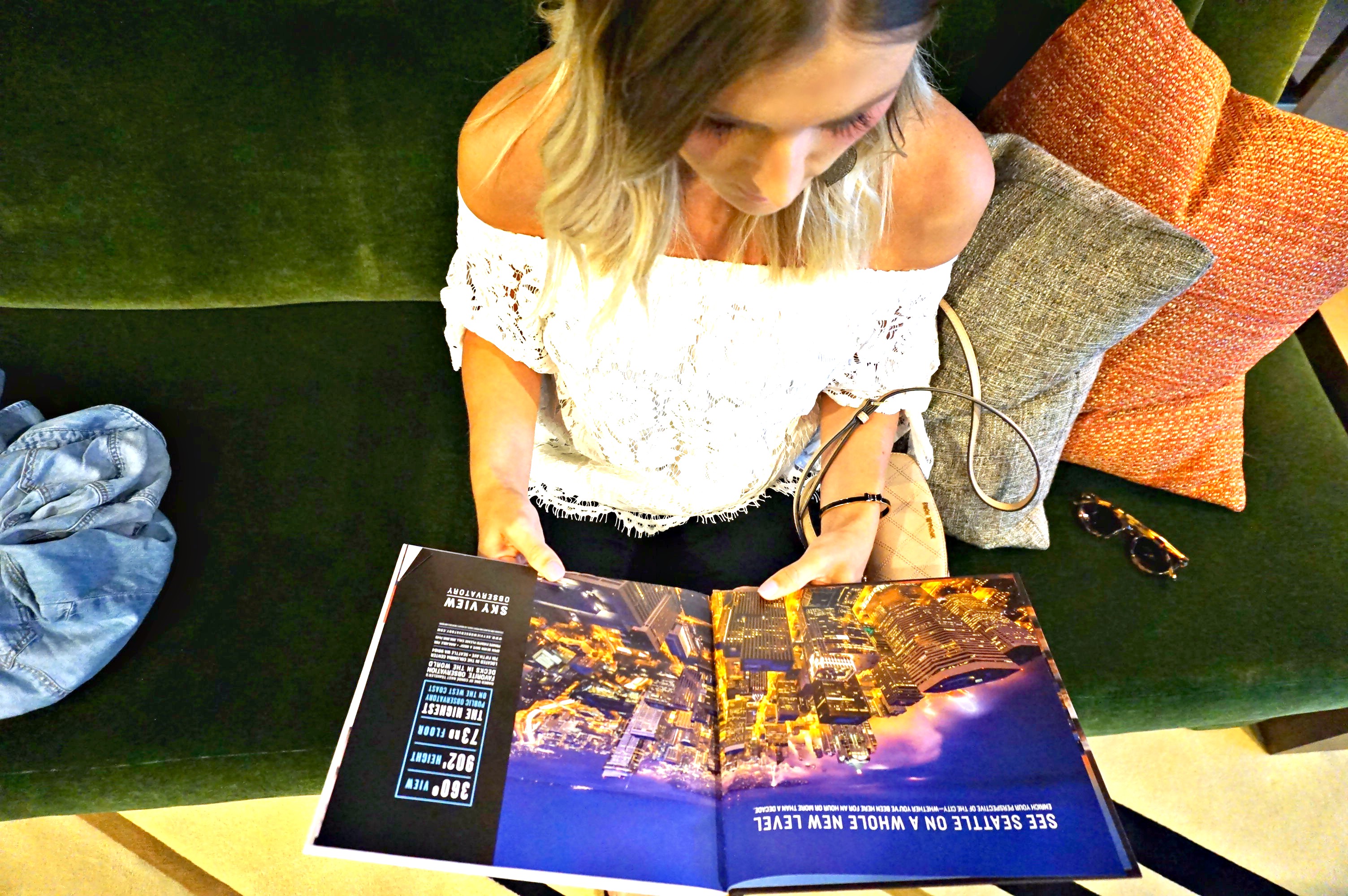 The trendy decor with a nod to the Pacific Northwest was hip and modern with a relaxing vibe. One of the hostesses called out to "Jer-bear", the lobby bear that the staff seemed to consider one of their own – I loved the exclusive service without the stuffy attitude.
Shortly after, we were escorted to the elevators and taken up to The Nest. Within a few seconds (and minimal awkward elevator silence) the doors opened to a lush, inviting backdrop enticing you to step inside and see what's around the corner.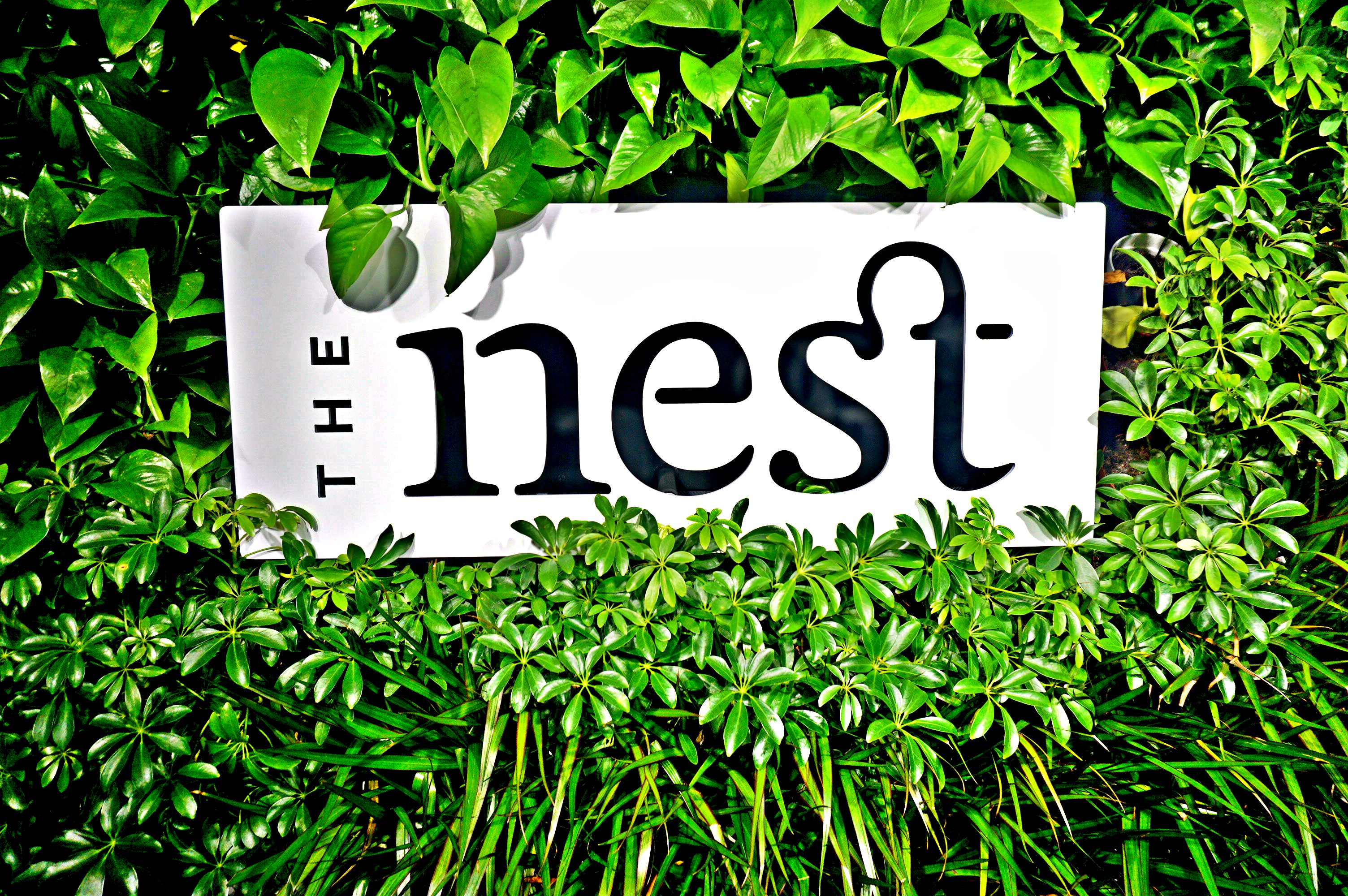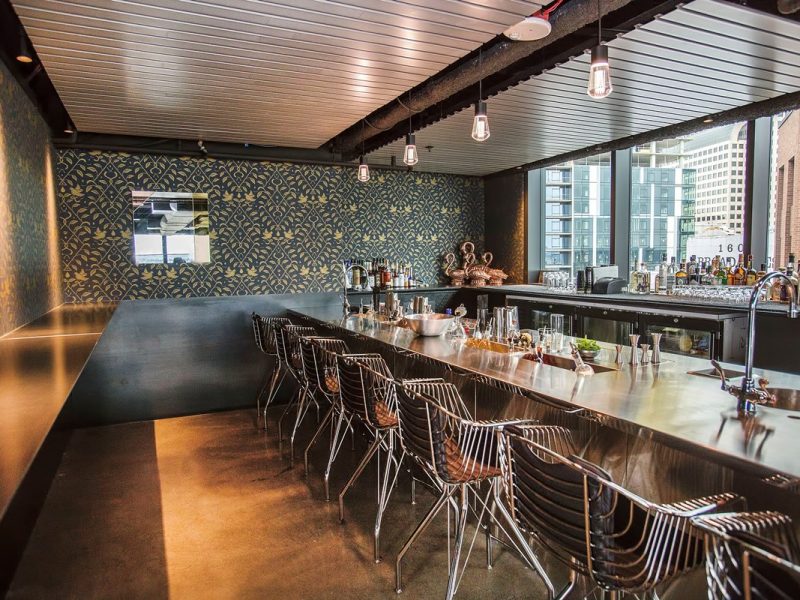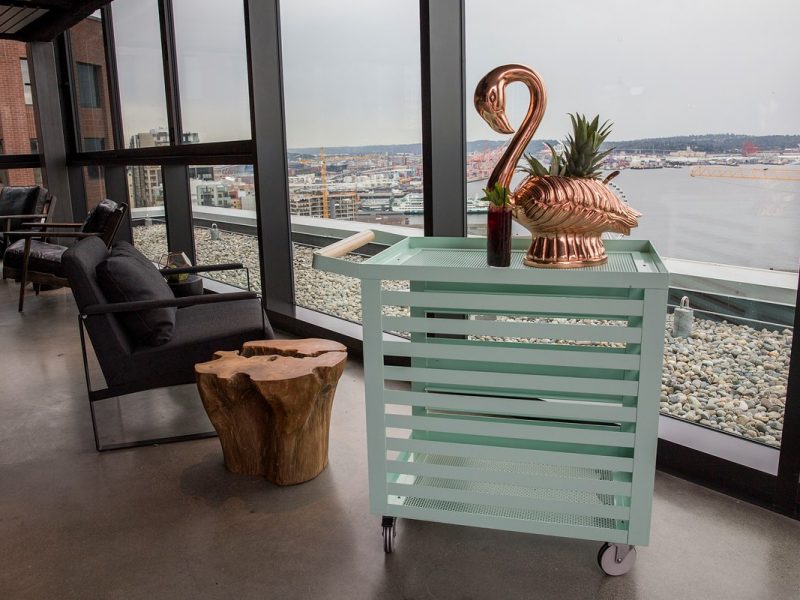 We stepped into the, airy bar with floor to ceiling windows which gave us a clear view of Pike Place Market. A few steps further and we went from cozy, chic bar space to an extensive outdoor patio surrounded by some seriously impressive views of the Seattle waterfront (snowcapped mountains and Ferris wheel included).
We had dinner reservations later that night so we stopped by The Thompson to kick off the evening with cocktails…just in time for sunset. Even on an overcast day the views were unbeatable – possibly one of the most relaxing indoor-outdoor rooftop bars I've experienced.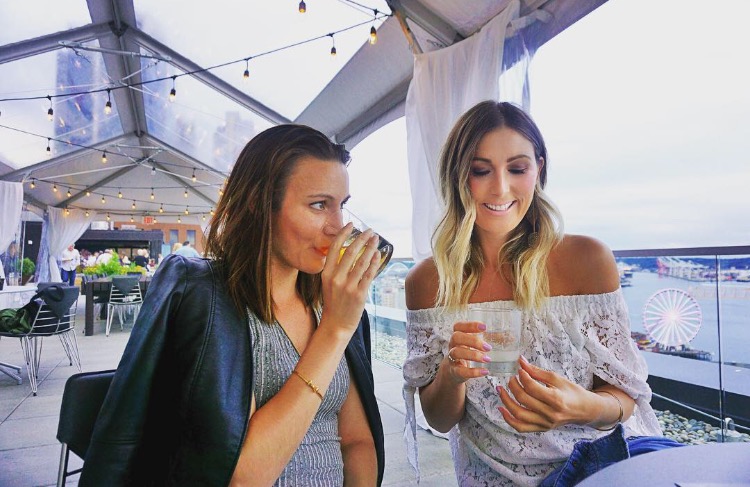 The server was quick to welcome us to The Nest and answer any questions we had about the list of tempting cocktails – no watered down syrup heavy drinks here. I opted for the Pacific Loon (when in Rome Seattle). My guests opted for the Eagle and the Junglebird. Drinks were shared!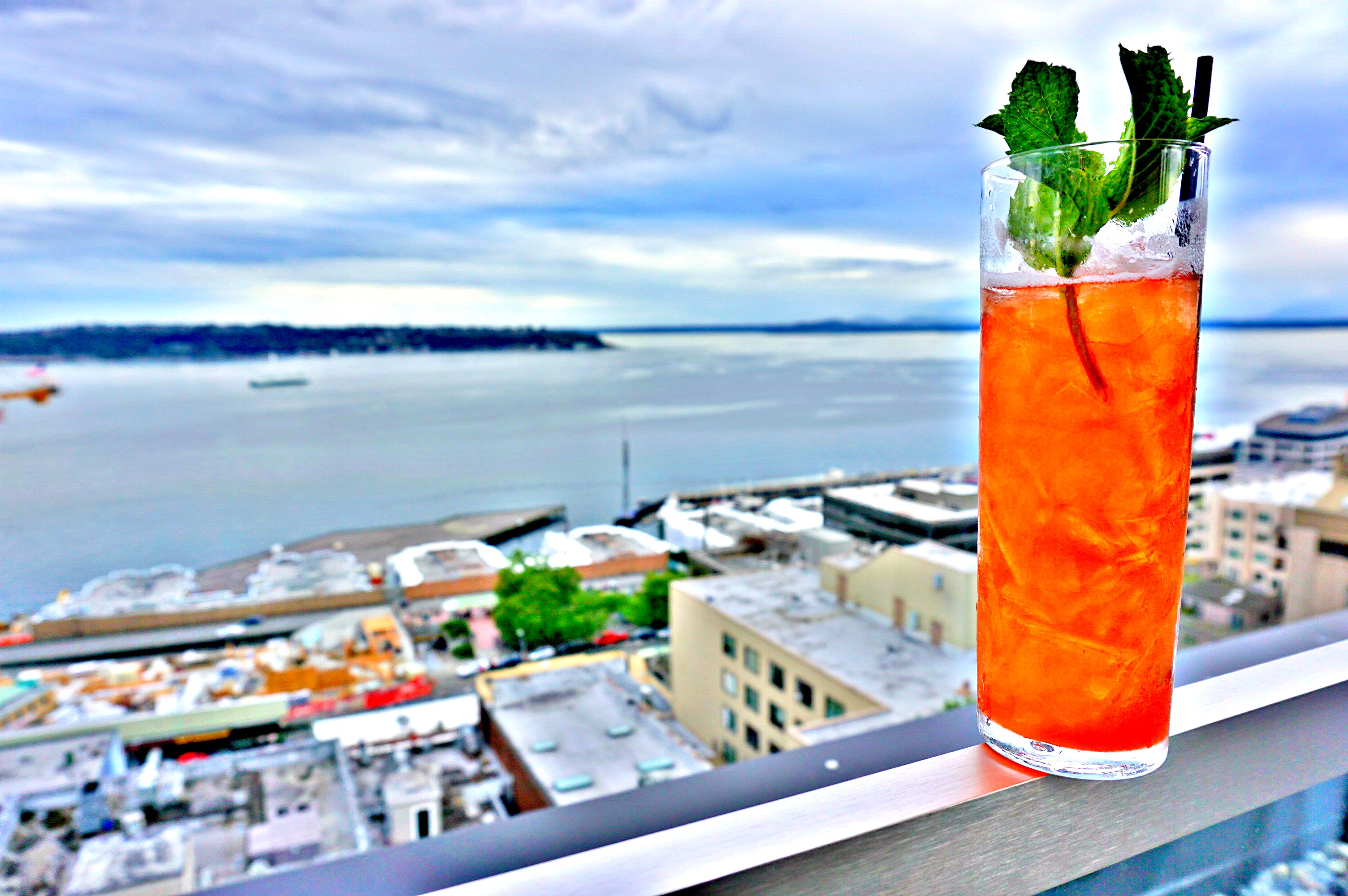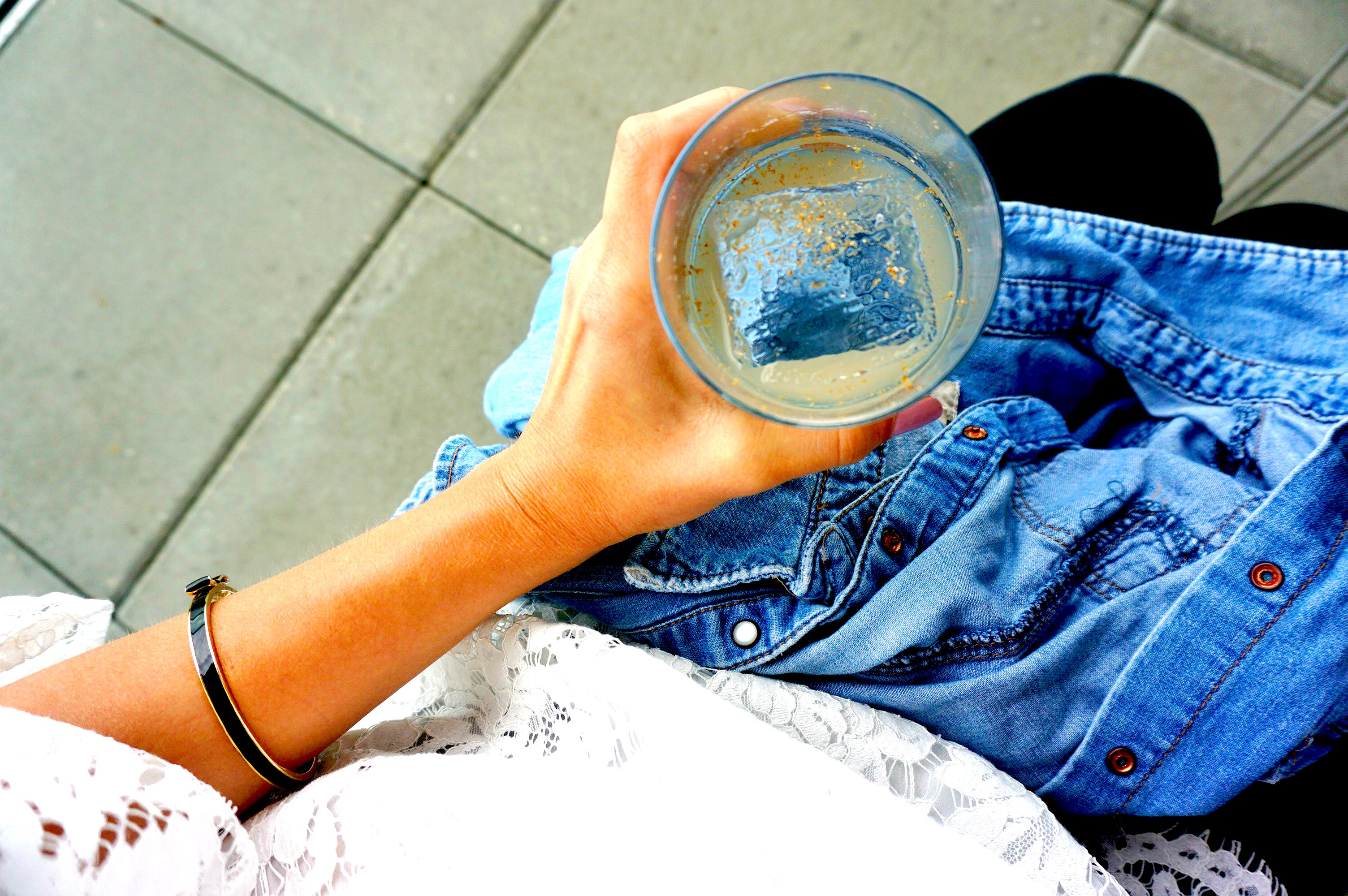 Aside from the classic olive and roasted nuts we also had the option of some sophisticated bar snacks:house pickles, Salmon Rillette, Chicken Liver Mousse and a palatable Charcuterie board – yes please!
I have to be honest, next time I'll request a seat near one of the adorably cozy fire pits – it adds to the ambiance and warms these chilly Washington-state nights.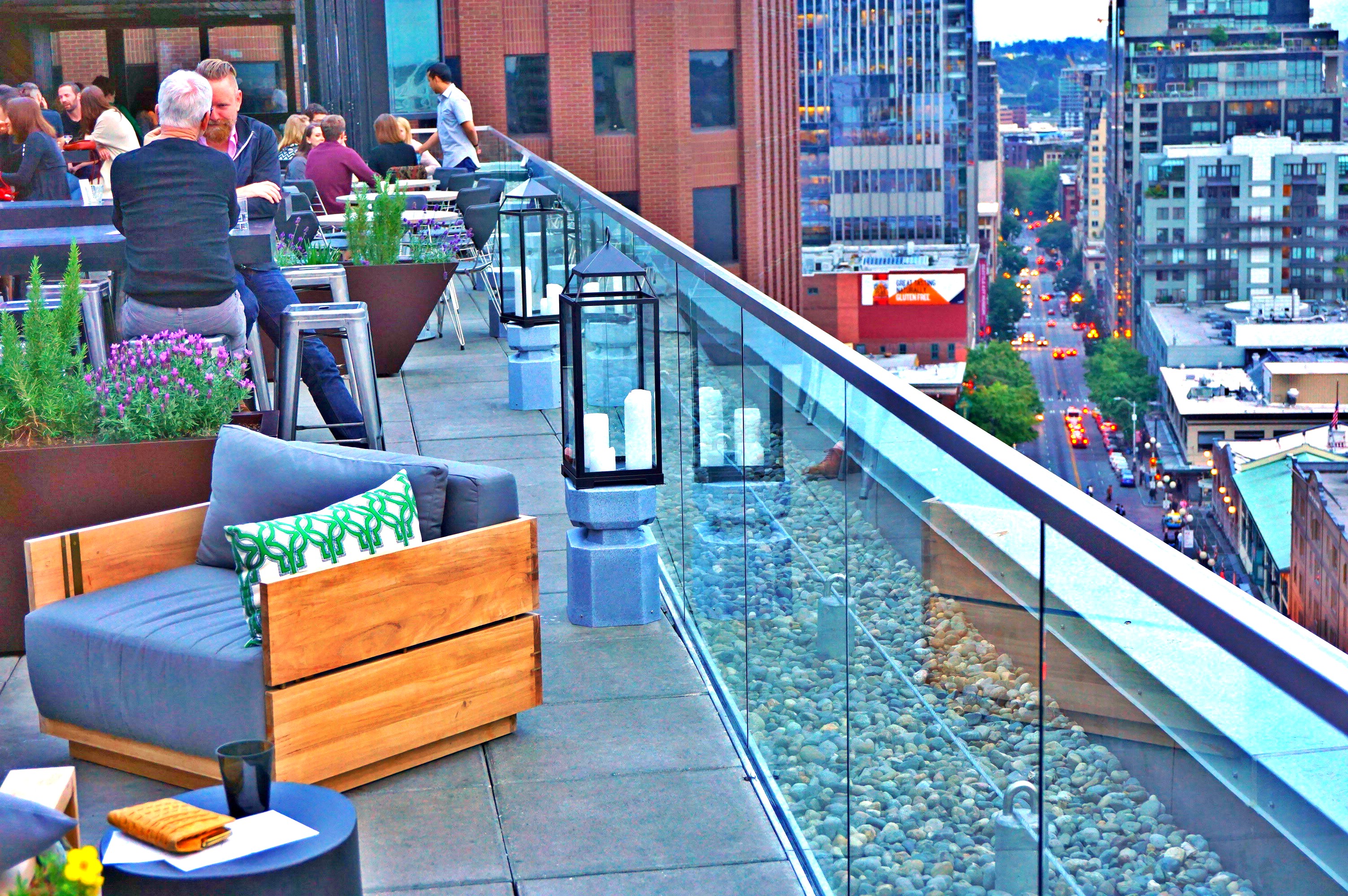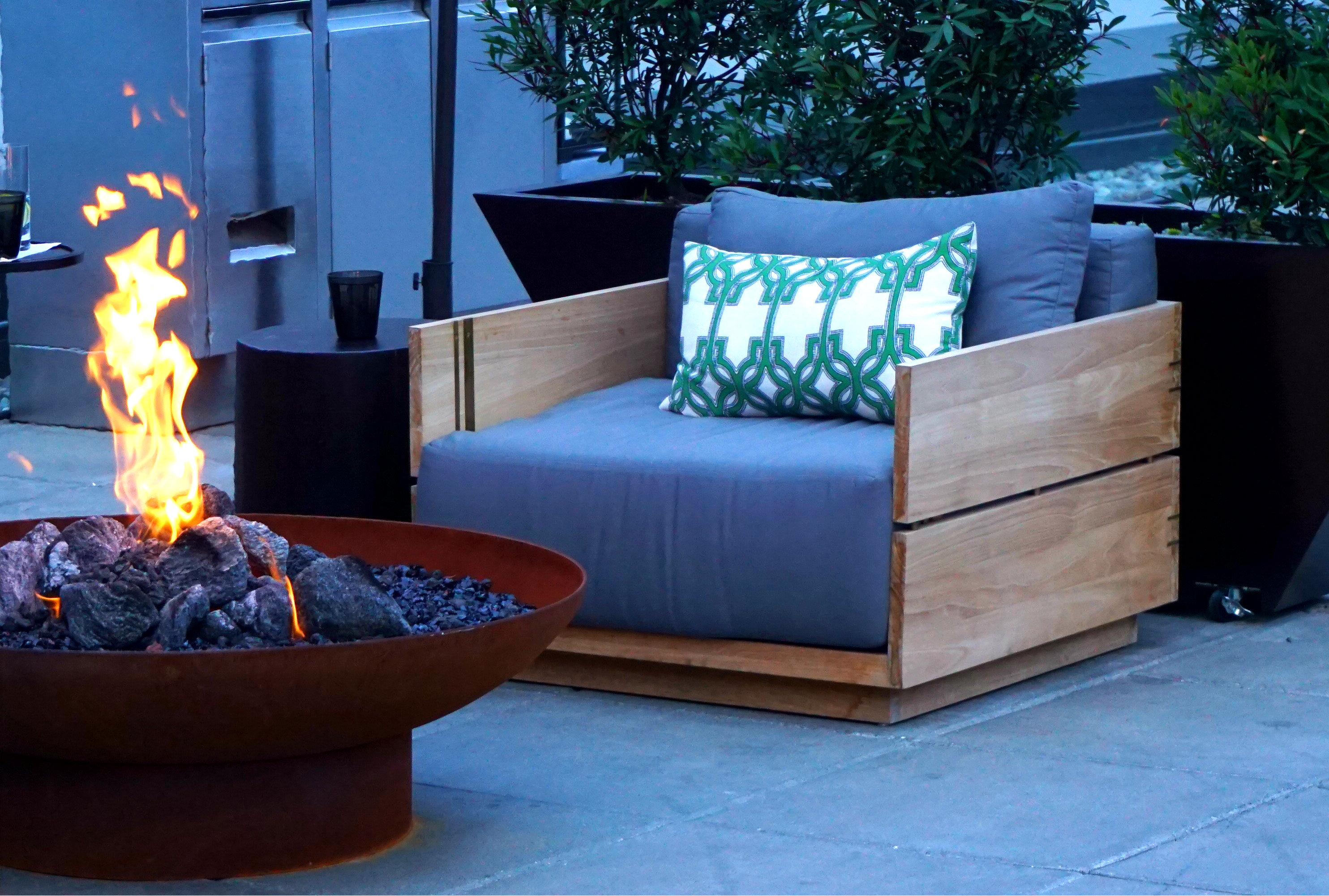 Thompson Seattle was lovely and felt more inviting than the Thompson Toronto, a location that I am very familiar with back home. I think it was a combination of the unbeatable comfortable Pacific Northwest vibe, picturesque mountains and sweeping evergreens.
For a central luxury boutique hotel steps from Pike Place Market, I can't imagine a better location.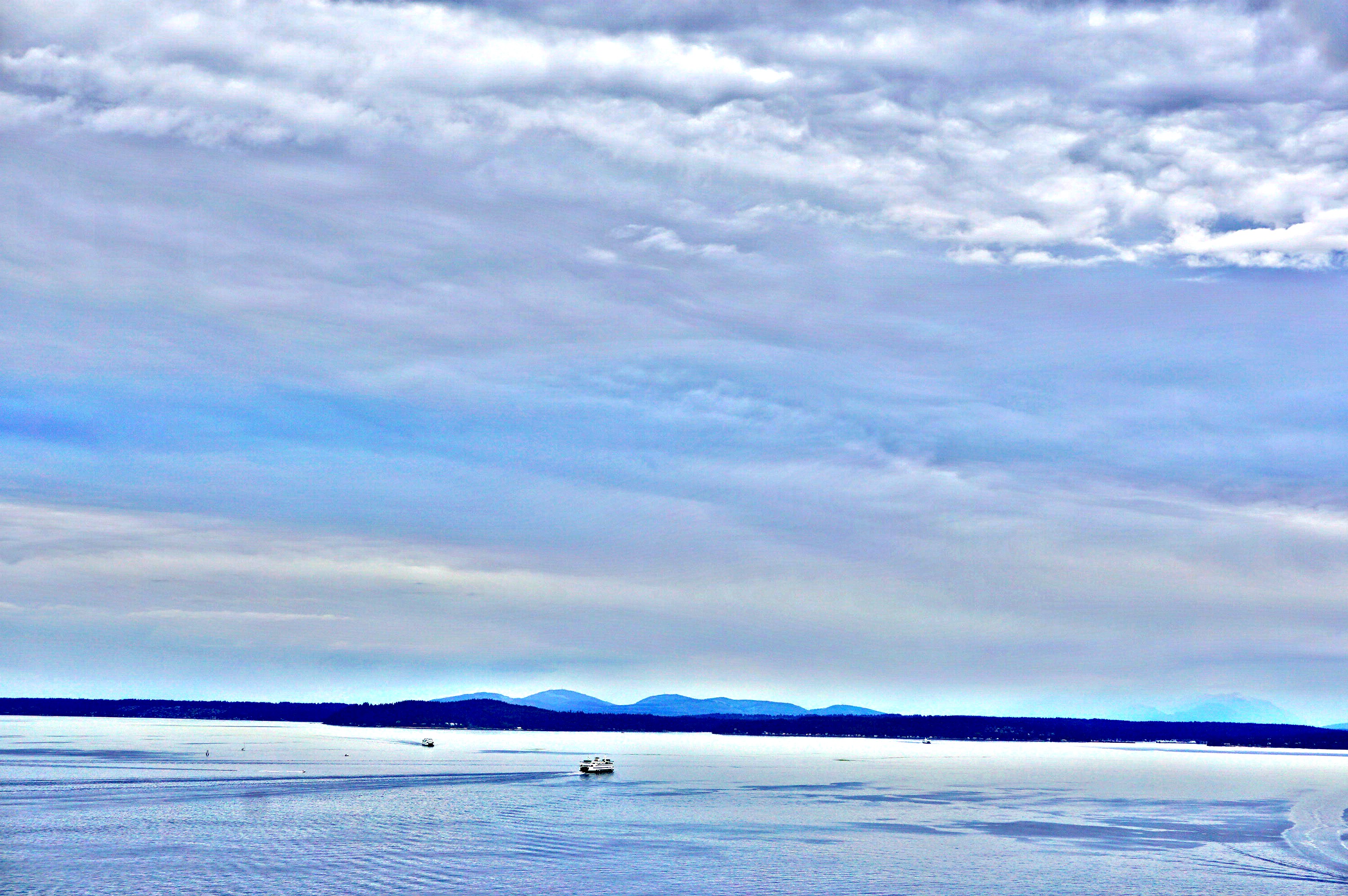 Seattle needed this – this place is the perfect excuse to kick off your hiking shoes and throw on a pair of your favourite heels.