Today I reached a milestone in my semi-nomadic life – it was six months ago that I last stepped off an airplane. Since then, the world has changed beyond recognition.
To mark this anniversary, it seemed appropriate to reminisce about my last "normal" memory in hopes that we might take the to the skies soon again.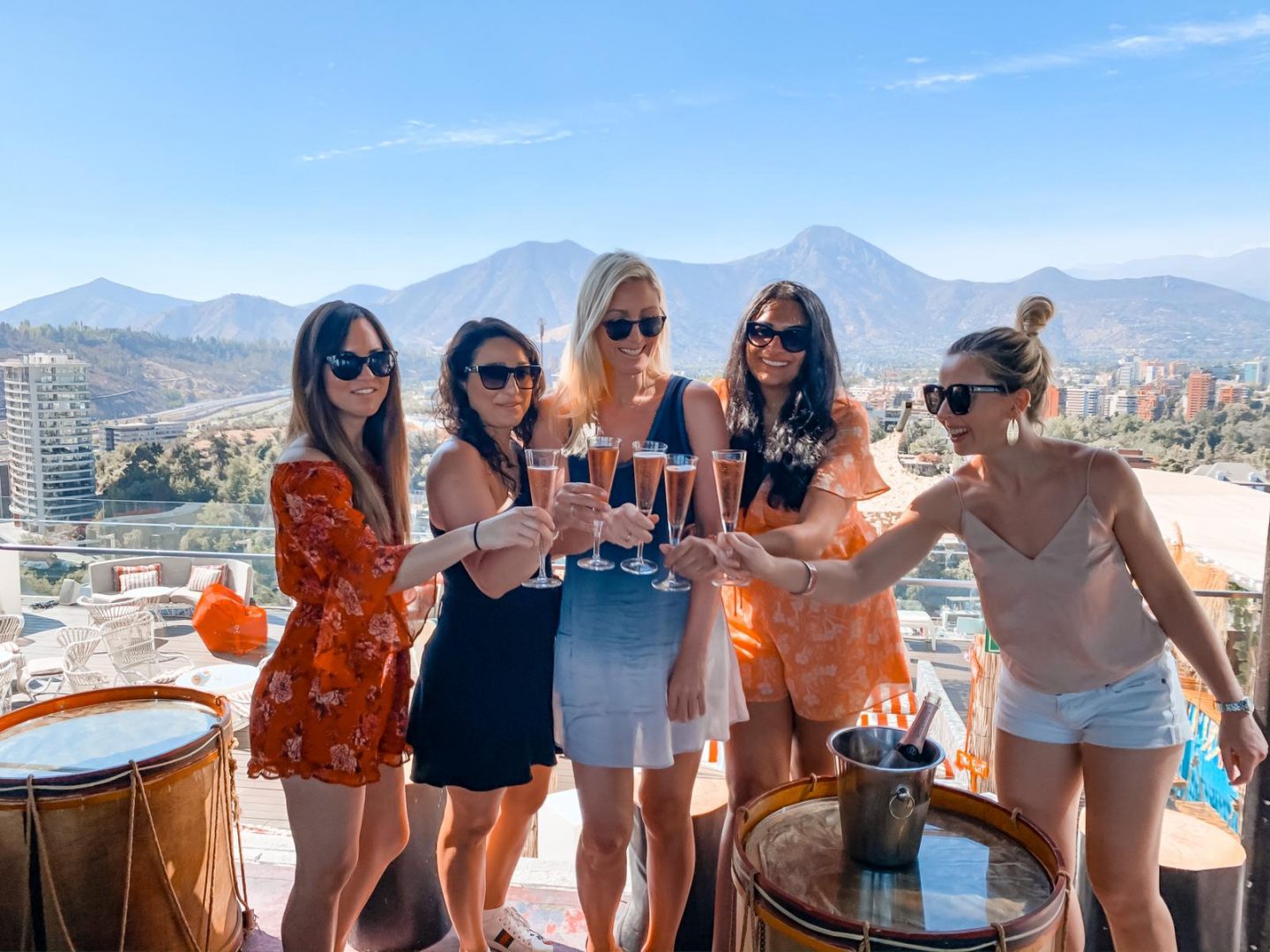 Chile in 2019/2020
On New Year's Eve 2019, myself and a few friends planned a mid-winter trip to Japan. But as COVID-19 reared its ugly head, we decided to pivot to a place that *appeared* unscathed.
Leaving a blizzard behind us, we boarded the late night flight bound for Santiago, Chile. At the time, Chile had yet to see it's first case of COVID-19, but it was still in a state of political disarray. Beginning in October 2019, citizens had taken to the streets to protest rampant corruption, inequality and an increased cost of living. Tourism, accountable for 3.2% of the country's GDP, seemed to be returning as protests slowed during Chilean summer holidays. This was much to the relief of hotel owners and tour operators reliant on guests from abroad. And to us, it seemed like an opportune time to go.
Day 1 – The W Santiago & Providencia
We landed at 10am and went straight to our hotel, the W Santiago in Santiago's chic El Golf neighborhood. The colourful lobby stirred us from the groggy post-flight haze.
After a quick wardrobe change, we made our way up to the rooftop pool. We drank wine, basked in the sunshine and marveled at the view. Having been in Santiago for only a few hours, we drunkenly professed our love for what seemed like a completely underrated city.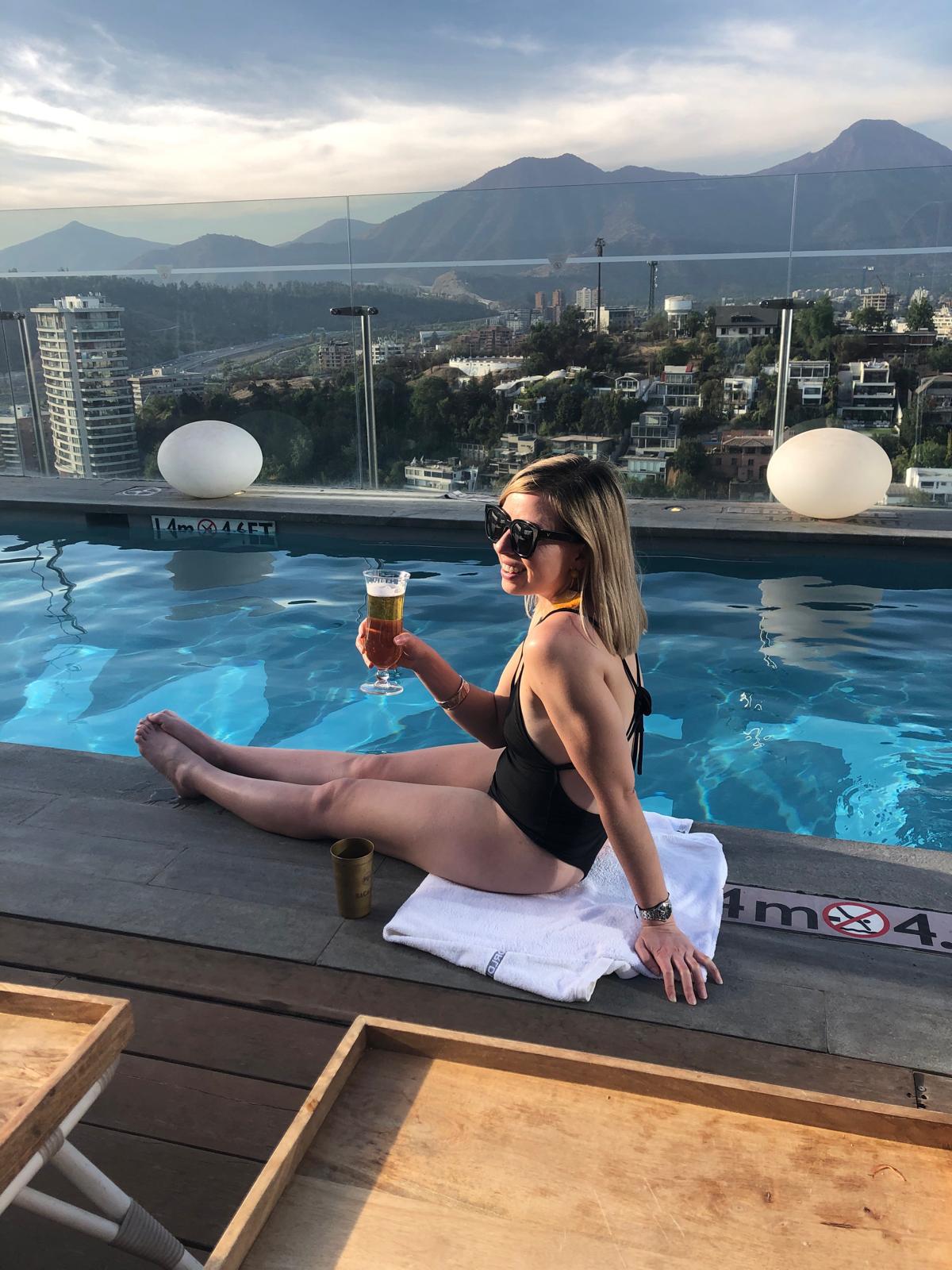 Once the sun set, we went out to Provadencia for dinner. As we enjoyed our night in one of Santiago's liveliest districts, a man reached through the trellis of the patio and ripped my friend's purse away. In a matter of seconds, everything she had (and very much needed) was gone. Police arrived and the night descended into chaos as we tried to navigate the bureaucratic system of a country in the midst of a social revolution. In the end, there was no remedy but to return to our hotel, tails between our legs, and move on.
The seeds of doubt were planted. Maybe we were naive to think we should be in the country at such a tumultuous time.
Day 2 – Termas de Banos Colina
After a short sleep, we stumbled to the lobby and began the 100km drive to Termas de Banos Colina. Worn from the events of the previous night, I would have rather stayed in bed. But as the heavy traffic of Santiago gave way to barren mountain valleys, I quickly changed my tune.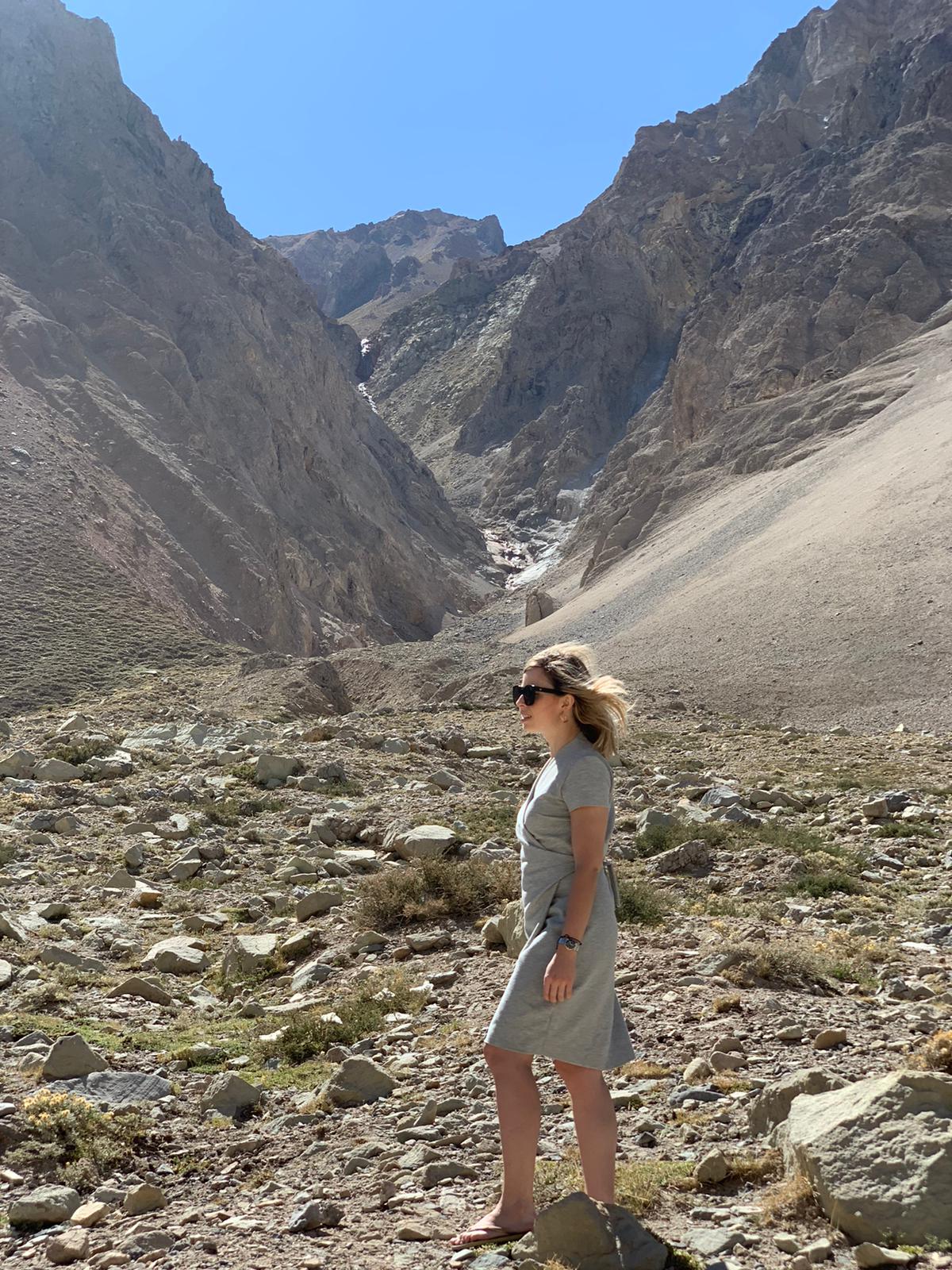 Our guide drove us through a martian landscape for what felt like an eternity, maneuvering around massive boulders that had fallen from the face of the Andes. We passed a memorial for LAN Chile Flight 107 which crashed into the side of La Corona Mountain in 1965. The landscape looked like a no-mans-land wedged between heaven and hell. 87 ghosts in all.
An hour later, we arrived at Termas de Banos Colina, a high-altitude hot spring just five miles from the Argentinian border. There, in the sunshine and the silky volcanic water, our hearts softened to this rugged, beautiful country.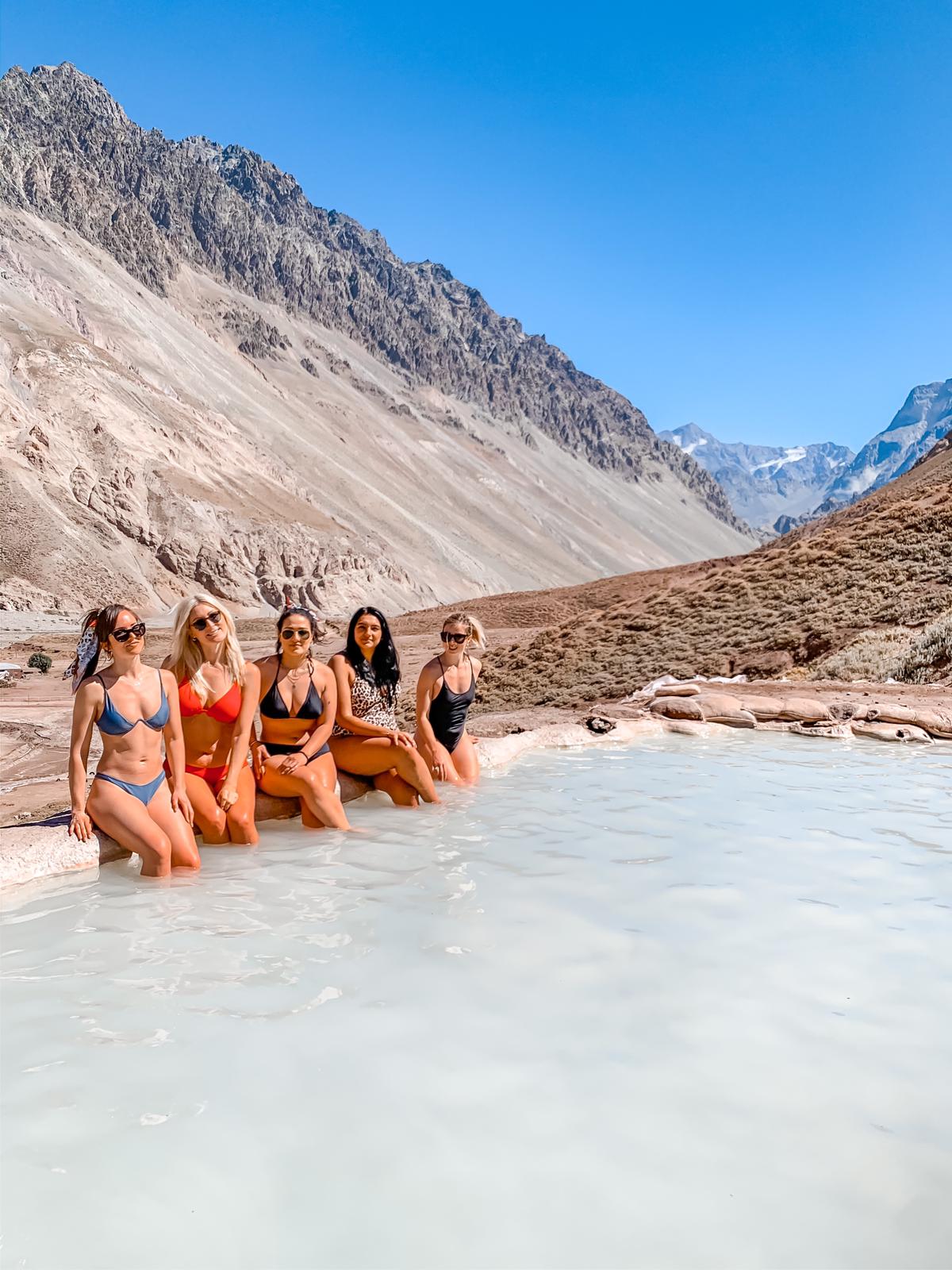 After a long soak, we clumsily made our way down the steps to find that our driver had set up a picnic for us. And so we ate and drank crisp cold sauvignon blanc in the blazing desert heat. Our driver was kind and bashful. He lamented about our incident the night prior, explained that Chile was reeling from upheaval. While an important revolution was taking place, it had its unintended side effects.
I couldn't help but wonder what the last few months of social unrest had done to his livelihood as a tour guide. Nor could I, at the time, anticipate what the next six months would do.
We all napped on our drive back to the city, drunk off wine and sunshine. Sapped of energy, we still made it to dinner at the renowned 99 Restaurante. The six-course meal was exquisite, yet somehow it paled in comparison to the humbled picnic we had in the valley earlier that afternoon.
Day 3 – Wine Tour in the Maipo Valley
Since the moment we decided to go to Chile, I had been thinking about Chilean wine. Longing to experience the bold aggressive reds that put this New World wine region on the map, we embarked upon a tour of the Maipo Valley.
After another early wake-up call, we listened to our guide explain (with eyes half closed) that the objective of the day was to avoid the big touristy tasting rooms. To understand Chilean wine, he said, you must meet the people, eat the food and gaze out upon the vastness of the sprawling vineyards.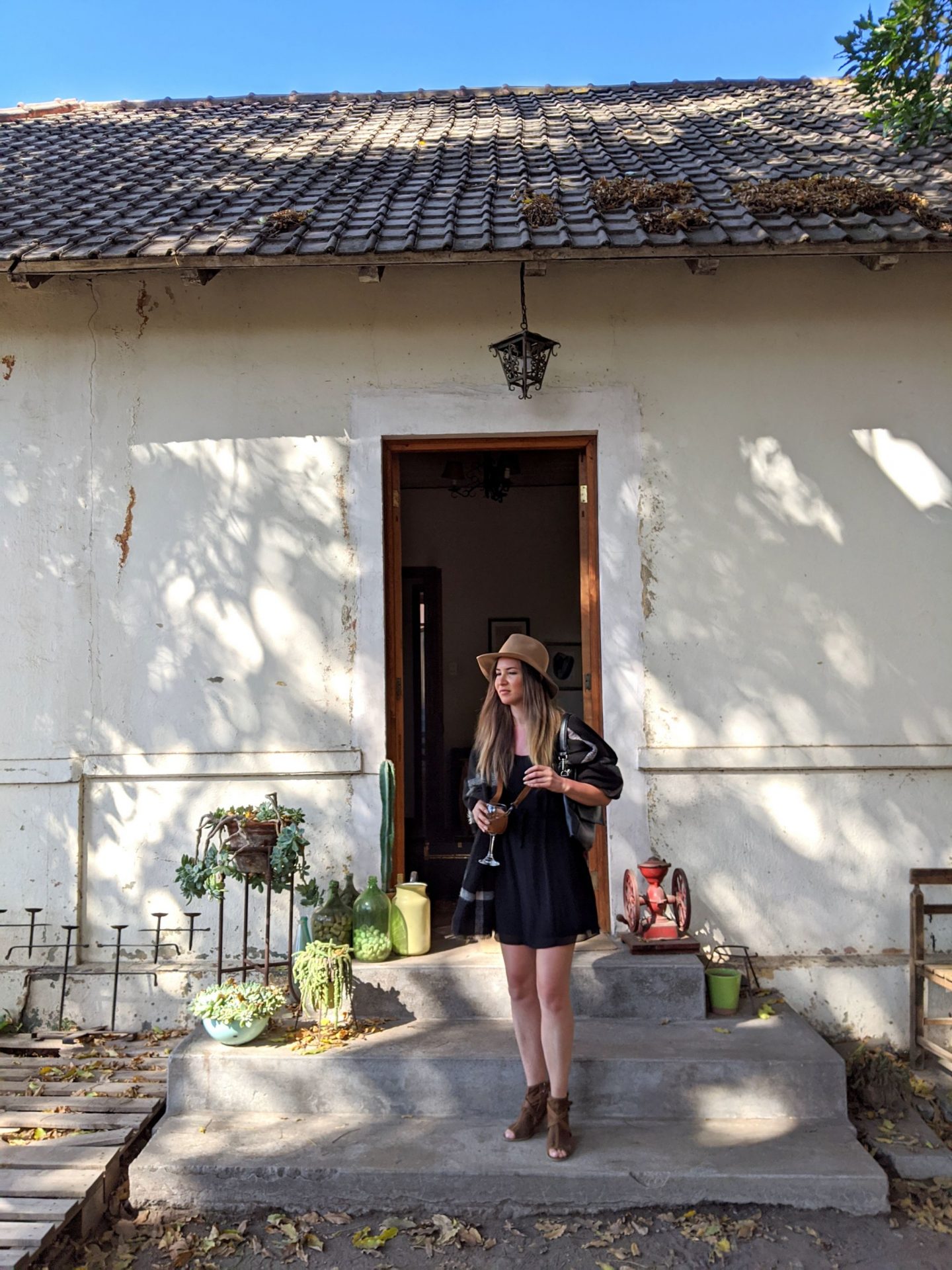 Our first stop was a house belonging to a local artist in the Maipo Valley. She prepared breakfast for us while we oohed and aahed at the kittens running around her yard. Next, we toured her gallery, learned about Chilean country life and listened to her explain how, in her town, no one locks their doors.
Then we went onward to our next stop, Vina De Martino, where our sommelier explained the tumultuous history of the lesser known carménère varietal. This deep, aromatic red with plush tannins and spicy notes was thought to be extinct until rediscovered in Maipo in 1994 by Jean-Marie Boursiquot. Considered the "Lost Grape of Bordeaux", Chile is now one of the only regions in the world that produces it (98% of the world's supply, to be exact).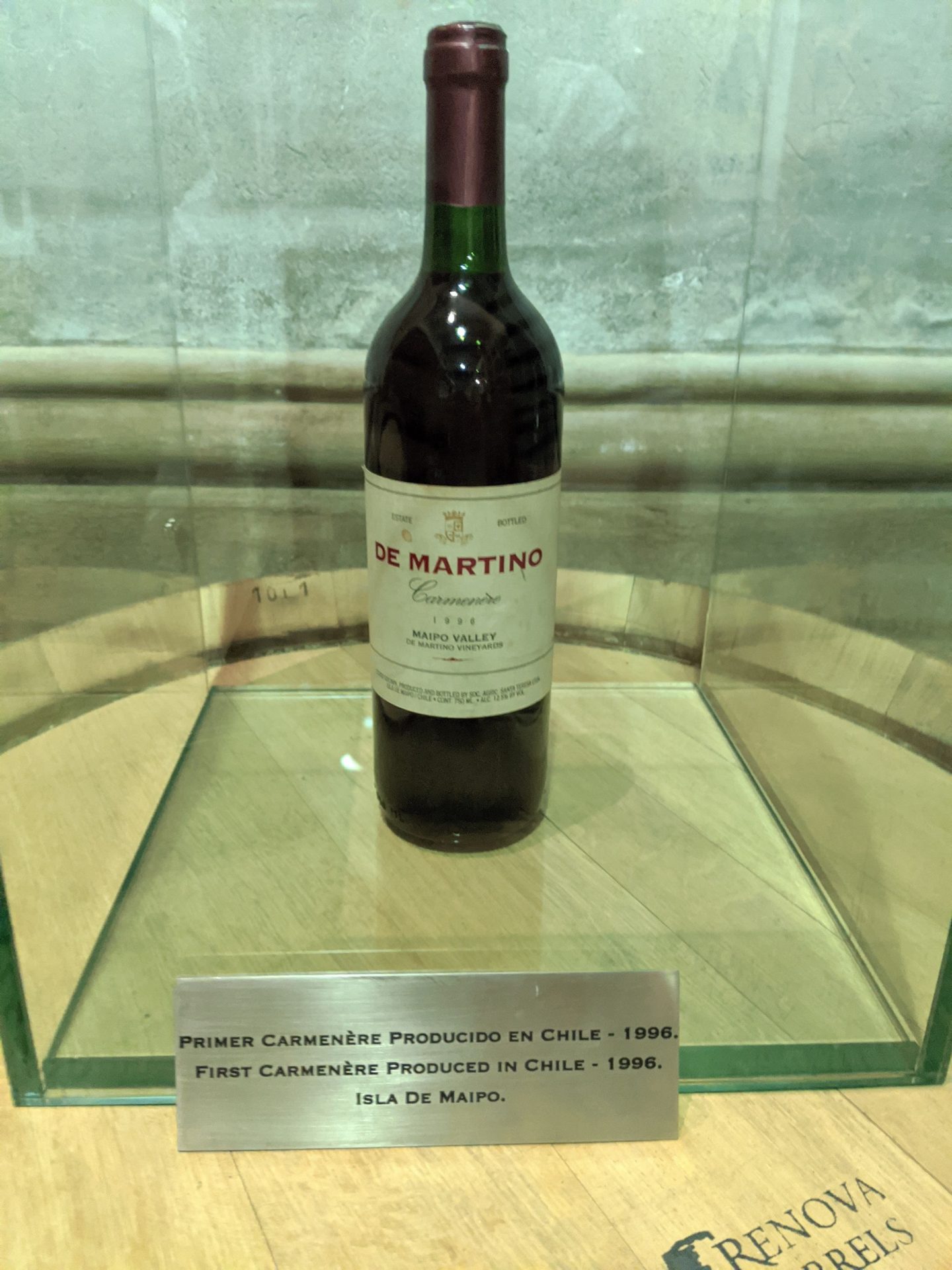 Our guide, an intelligent and passionate sommelier, told us the history of Chilean wine in a way that kept us on the edge of our seats. Perhaps it was the early-morning buzz or just his knack for storytelling, but the saga unfolded with all the intensity of a Shakespearean play. The Great French Wine Blight, the brave immigrants who set up viticulture in a land so far away from home, the so-called extinction of the carménère grape…. In each short car trip between vineyards, he further explained the wild history of Chilean wine while we hung off his every word.
I remember that afternoon so vividly now. Bold rays of sunshine fluttered through the autumn leaves, sheltering us from the sun's intensity as we sat discussing everything from wine to politics to dogs. Sitting around a crowded picnic table, we laughed, we enjoyed the company of strangers, and just basked in the simplicity of it all. The charm of rural Chilean life was not lost any of us. And the whole thing played out like B-roll from the movie "Sideways". (That is if "Sideways" had been set in Chile and ended with a global pandemic.)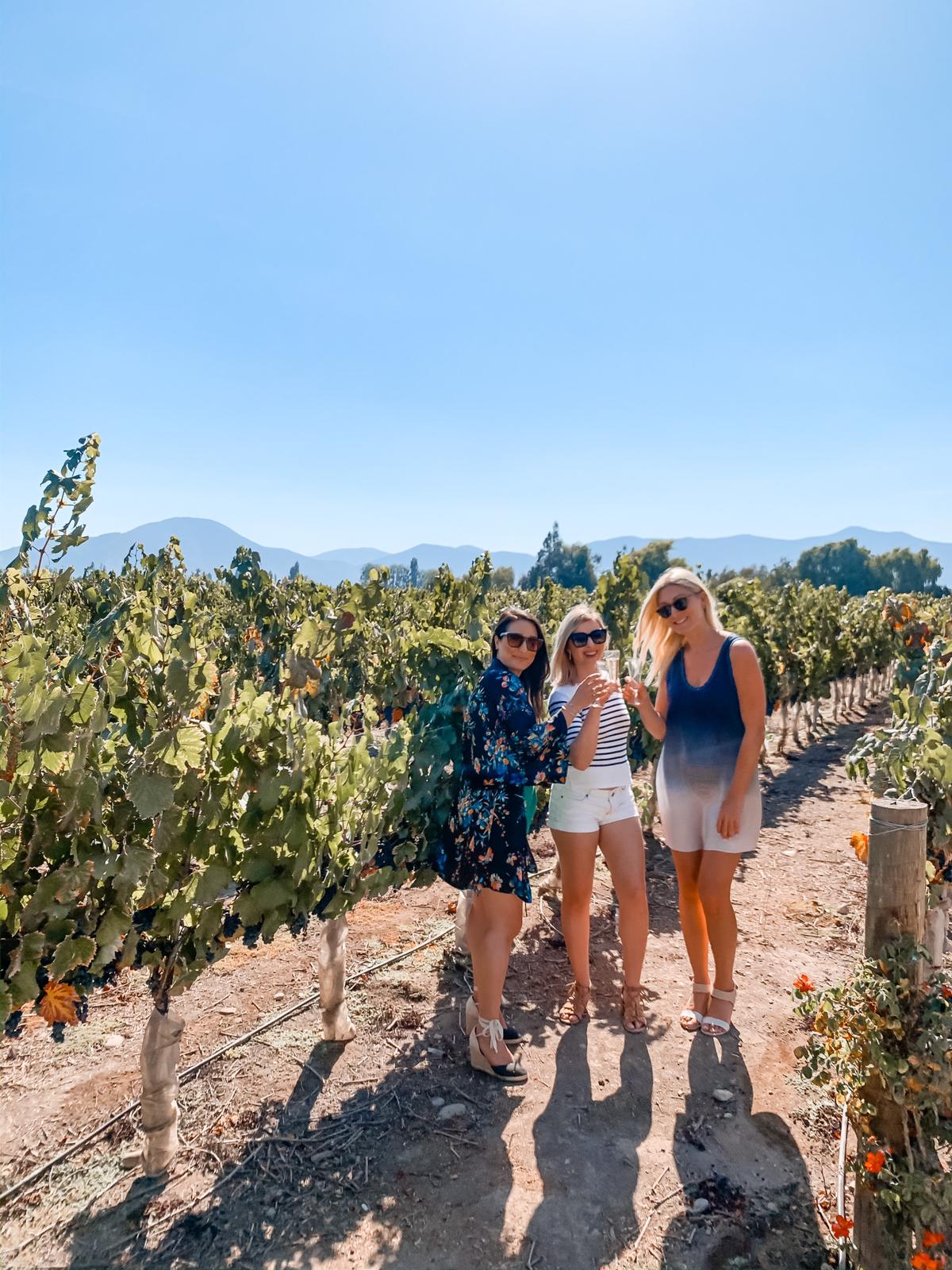 Day 4 – Las Condes & Home
After four days in Santiago, any negative feelings we might have harbored for the city had faded. We were all sad to leave. Chilean people we kind, spirited and proud. Their plight to reform their country was justifiable, even admirable. In hindsight, it foreshadowed a year of great social change to come.
We spent our last day puttering around the Las Condes district, eating the freshest, most vibrant avocados I've seen in ages. And as the hour to depart approached, we took one final picture together before making our way down to our cab and back to the world that would disintegrate that very week.
I recently asked my friend to recap our trip to Chile in one sentence. With a grin, she said: "Got robbed, still had a great time." While not exactly a work of Pablo Neruda, it was an apt description of our weekend in South America.